3 Essential Ingredients to Make Low FODMAP Cooking More Flavorful
⭐ ⭐ ⭐ ⭐ ⭐
"OMG the pure flavor of garlic in my dishes again without the painful reaction."
- Suzanne A.

⭐ ⭐ ⭐ ⭐ ⭐
"The best chicken broth I have tried. That it's Low FODMAP is a huge bonus."
- Helen W.

⭐ ⭐ ⭐ ⭐ ⭐
"Fantastic Product! Much more onion taste than even fresh green onions or chives."
- Rosita Y.
Amazing Ingredients.
Uncompromising Quality.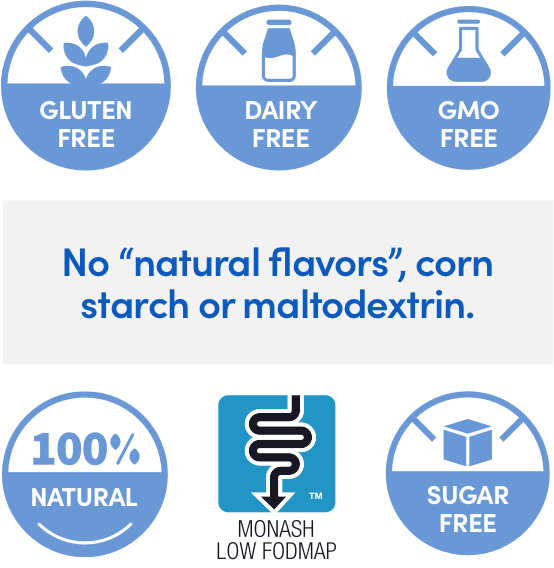 Not everything that is low FODMAP is actually good for your health. We are committed to bringing you whole, clean, low FODMAP essentials free of all fillers, additives and preservatives. Only real food to help you lead a healthier life.

No Fillers
No Preservatives
Real Ingredients
Others
Excessive Salt & Sugar
Maltodextrin & Corn Starch
"Natural Flavors" & Extracts
Frequently Asked Questions
How can I be sure your products are low FODMAP?
Our proprietary recipes have been laboratory tested by Monash University, the creators of the FODMAP diet and most trusted source for testing FODMAP levels in foods. Low FODMAP Certified by Monash University, our products are low in FODMAPs, making them "safe" for people with IBS and other digestive challenges.
What are the ingredients in each product?
We are committed to making filler-free products without preservatives, flavor enhancers, yeast extracts, corn starches, maltodextrin and other funny business. Just real ingredients here.
Chicken Broth: Water, chicken bones, scallion green tops, carrots, celery, leek green tops, chives and parsley.
Garlic Scape Powder: 100% freeze dried garlic scapes
Green Onion Powder: 100% dehydrated negi scallion tops
Garlic Chive Powder: 100% dehydrated garlic chives
Are your products organic, gluten-free and dairy-free?
Yes! Gourmend's chicken broth is made from certified organic chicken bones vegetables. Our Garlic Scape Powder is made from garlic scapes sourced from organic farms in Wisconsin. Our Garlic Chive Powder is made from garlic chives grown using "beyond organic" practices (organic fertilizers are not even used) and the scallions used to make our Green Onion Powder are grown on an organic farm in Upstate New York.
All our products are gluten-free and dairy-free.
How do you source your ingredients?
At Gourmend, we are committed to ultra-responsible sourcing. We only source organic ingredients, partnering with local farms and boutique manufacturers whose practices do right by poultry, produce, people, planet, and palate.
You won't find any maltodextrin, fillers, stabilizers, yeast, additives or preservatives in our products - just humanely raised meats and organically grown produce.
Where are Gourmend products made?
Our ingredients are sourced from our network of organic farmers across North America. All production and packaging is done entirely in the U.S.
Are your products low sodium?
Yes, in fact, there is no salt added to any of our products so everyone is free to add as much or as little salt as desired based on what you're cooking.
How long will products last?
We go the extra mile to package and process our products in ways that preserve the aroma, nutrients, flavors and color, so they will last for at least 1-2 years without refrigeration.
Gourmend's products can be shipped to any state in the U.S and several countries around the world. See our shipping page for more details.
Do you ship internationally?
We are trialing international shipments to a few countries—please reach out for arrangements. Please note: Import taxes and duties are not included in our international shipping costs and may be assessed to you upon package arrival. We'll be happy to advise as best possible over email.
How do I get free shipping?
Shipping is always free as long as you spend $60 or more in the continental United States. Of course, your order can be less than $60. If it is, there is a flat rate shipping charge of $6.
Because of carrier rates, we can't offer free shipping to Alaska, Hawaii, U.S. Territories and international destinations at this time, no matter the size of the order.
How long does shipping typically take?
We're committed to getting you your order as fast as possible. Orders placed weekdays before 3 pm EST will typically ship the next business day.
If you selected free shipping, your order will arrive 2-3 days after the order is shipped to East Coast addresses and up to 6 days after for the West Coast. You also have the option of upgrading your shipping method for faster delivery.
What is Gourmend's return policy?
We're confident that you'll be completely satisfied with your Gourmend purchase. If for some reason you are not impressed, just email us at hello@gourmendfoods.com within 30 days of purchase so we can make it right.
We'll refund your money and you won't even have to ship the product back to us. Please note that this option is available once per household and that refunds can take 5 to 10 business days to process, based on your financial institution.
What if something in my order arrives damaged?
We use the utmost care in packaging your order. If you receive a damaged product, please contact us at hello@gourmendfoods.com with a picture to so we can get a replacement out to you asap!
Where can I buy Gourmend's products?
You can order fresh, flavorful cooking essentials that are low in FODMAPs right here on Gourmend's website. Soon, products will be available on Amazon and in popular gourmet grocery stores.