Amazing Ingredients.
Uncompromising Quality.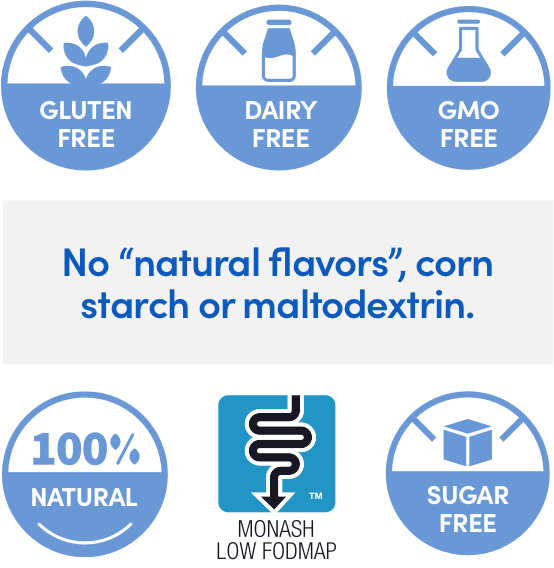 Just because it's low FODMAP, doesn't mean it's good for you. We are committed to bringing you whole, clean, low FODMAP essentials free of all fillers, additives and preservatives. Only real food to help you lead a healthier life.
---
7 Ways to Use Garlic Scape Powder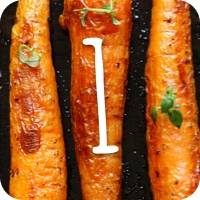 To season roasted vegetables, toss your garlic scape powder in with olive oil, salt and pepper and roast your vegetables at 350-400° until done to your liking. They'll taste better than ever!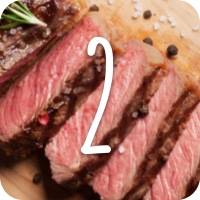 To add flavor to proteins like steak, shrimp or chicken, sprinkle them with some garlic scape powder, salt and pepper and other spices of your choosing. You'll be happy you did!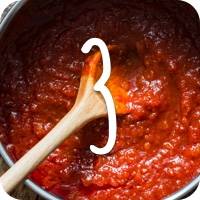 For a flavorful tomato sauce, saute garlic scape powder and fresh chives in olive oil. Then stir in your tomato puree with some salt and pepper, simmering everything on low (adding more seasoning, if needed, until you achieve the desired flavor).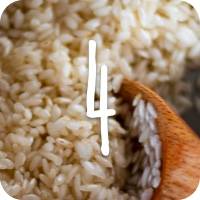 For a risotto, you can lightly sauté some olive oil, garlic scape powder and chives before you add the arborio rice. During cooking, don't forget to season with salt and pepper. Fold in some freshly grated FODMAP-friendly aged cheese like Grana Padano or Parmesan near the end.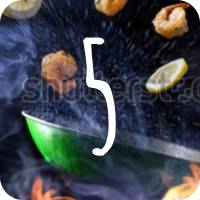 In a stir fry, you can heat up some peanut and sesame oil, add some garlic scape powder and fresh or powdered ginger. Then toss in any vegetables or proteins you like and give them a nice sear (avoiding overcrowding so you don't steam vs. sear) while adding a dash of salt, pepper, soy sauce, sesame seeds and lemon juice.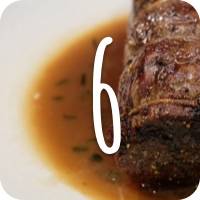 For a pan sauce, melt about a tablespoon of butter in the pan you've just cooked your meat in, scraping up any leftover bits and incorporating. Then add some chives or scallions and garlic scape powder and sauté until softened. Stir in about a ½ cup of red wine, a dash of soy sauce and a drip of balsamic vinegar. Reduce it by half, then whisk in more butter until it's your desired thickness.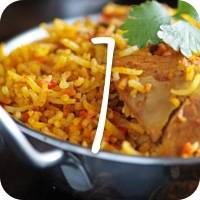 For Indian flavors, try sautéing some garlic scape powder, cumin, coriander, turmeric and mustard seeds. Once the seeds begin to pop, add your vegetables or proteins and simmer for a very flavorful outcome. Garnish your finished dish with some fresh cilantro if you like!
Frequently Asked Questions
What are garlic scapes and how is this made?
Garlic scapes are the tender stem and flower bud of a garlic plant. For our Garlic Scape Powder, we start by sourcing organic garlic from local farms. To ensure only safe, low-FODMAP parts of garlic make it into our powder, we trim all the scapes by hand and clean them without the use of chemicals.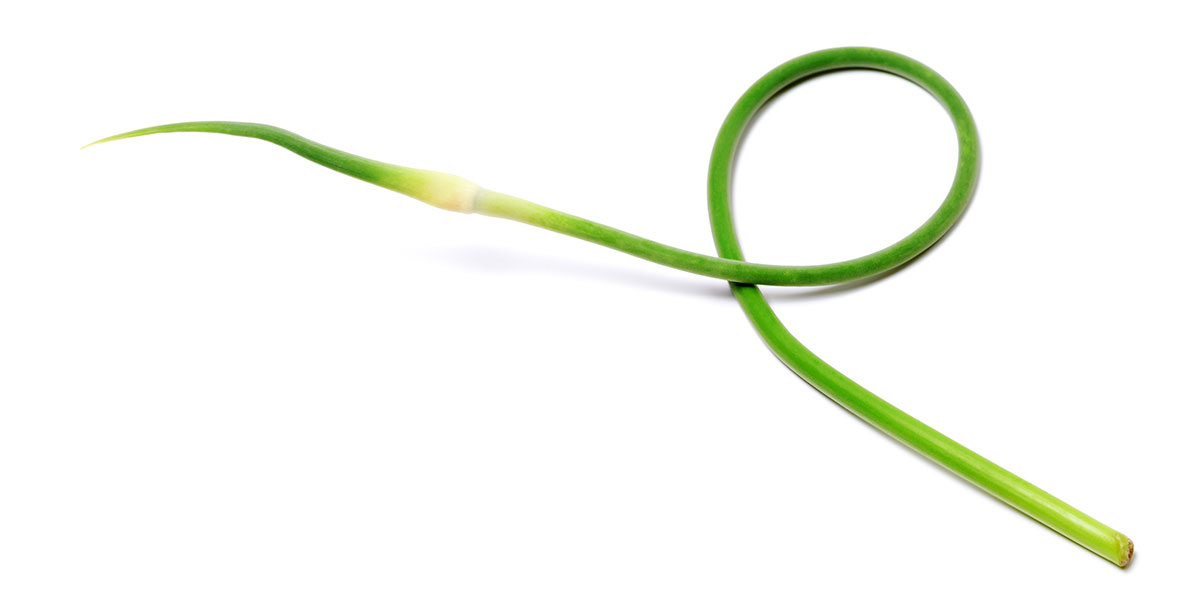 Our scapes are then chopped and freeze-dried for optimal flavor and nutrient retention. This produces an aromatic, shelf-stable powder that will last for many years (though we're sure you'll enjoy it so much, it'll be gone in weeks!). Production of our Garlic Scape Powder is done entirely in the United States.
How do I know this is low in FODMAPs?
Our proprietary recipe has been tested by Monash University, the creators of the FODMAP diet and most trusted source for testing FODMAP levels in foods. One serving size (1/4 tsp) per person of our garlic scape powder has been shown to be low in FODMAPs.
Monash University Low FODMAP Certified trademark is used under license. A low FODMAP diet does not treat a disease but may help to meet nutritional needs with reduced gastrointestinal symptoms. We always recommend seeking counsel from a healthcare professional before following a strict low FODMAP diet.
How is this different from garlic powder?
Garlic powder is made from the high-FODMAP crushed bulbs of garlic plants. Garlic scapes are the tender stem and flower bud of hard neck garlic plants which are low-FODMAP in moderate amounts. They are available only once per growing season, making them an extra special treat. Garlic scape powder tastes slightly sweeter, smoother and more mild than traditional dried and fresh garlic.
How many meals can I make with a bottle?
A little of our garlic scape powder goes a long way – each bottle has about 103 servings. So, enjoy at least 100 dishes if you're cooking for one, 50 if you're cooking for two or 25 if you're cooking for four. For the price of a few coffees, you'll be set for months!
How long will my garlic scape powder last?
Because our garlic scape powder is freeze dried, it should maintain most of its flavor and aroma for many years. That said, we recommend enjoying all dried herbs and spices as quickly as possible for maximum flavor.
What do I do with Garlic Scape Powder?
If your favorite home-cooked dish calls for garlic, you don't have to banish that flavor from your dinner table forever. Sprinkle in about 1/4 tsp of our Garlic Scape Powder (per serving) to add a little zest to vegetables, soups or meats. If you have a recipe that calls for garlic powder, you can use our Garlic Scape Powder in its place. Gourmend's Garlic Scape Powder is a certified option for low-FODMAP cooking, when used in moderate amounts.
What are the ingredients?
Our Garlic Scape Powder is made from a blend of different heirloom garlic varieties such as Amish Rocambole, Armenian, Chesnok Red, German Red, Majestic, Music, Persian Star, Romanian Red, Spanish Roja and more. And that's it. No preservatives, fillers, stabilizers or additives of any kind.
Are there any preservatives?
No, absolutely not. You won't find any additives, fillers, preservatives, stabilizers, anti-caking agents, or gluten in this spice. Our Garlic Scape Powder is all goodness, so you can feel good about using it in your favorite recipes!
Will the powder cake or stick together?
We don't use any preservatives or anti-caking agents, so this remains a possibility. However, because this is a freeze dried powder (meaning virtually all moisture has been removed from the product), if you store it in a dry, dark cupboard in its original glass bottle, the powder should stay loose for a very long time.
Heirloom garlic is a garlic variety that was grown by previous generations (for at least 50 years). Heirloom varieties are not commonly used in today's commercial agriculture. To be considered heirloom, these varieties must keep their traits uniformly through open pollination making our scapes both extra flavorful and rare.
Is your packaging environmentally friendly?
Our scape powder is packaged in glass jars. We've chosen glass because it is an easily recyclable, sustainable, inert material that does not leach any plastic flavors into the spice.
Although we cannot accept returns of food products, even if the product is unopened, it is important to us that you are happy with your purchase. If you have any concerns, contact us about our Satisfaction Guarantee at hello@gourmendfoods.com and we'll help you find a solution!
Perfect Pairings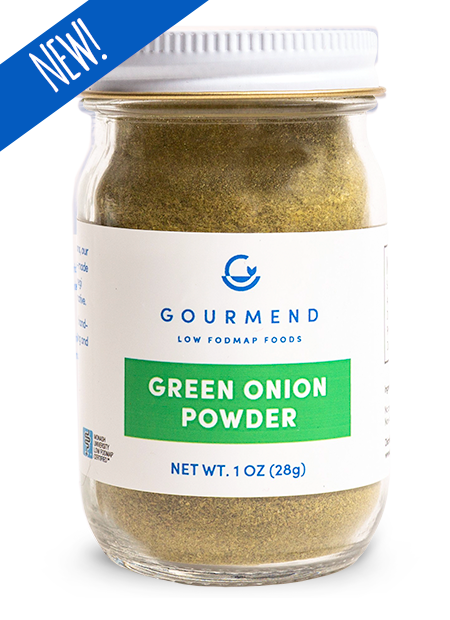 "Fantastic Product! Much more onion taste than even fresh green onions or chives."
- Rosita Y.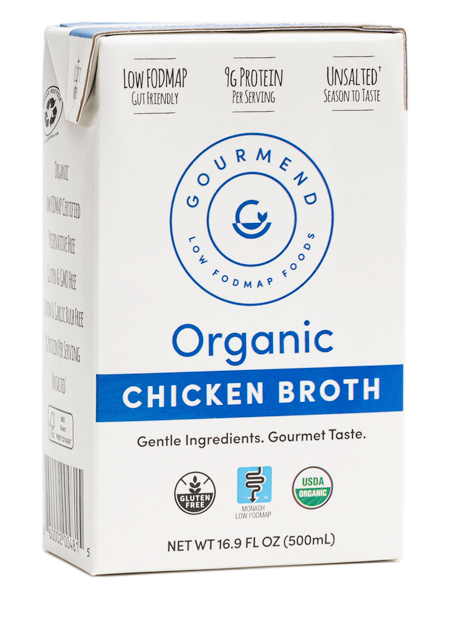 "The best chicken broth I have tried. That it's Low FODMAP is a huge bonus."
- Helen W.